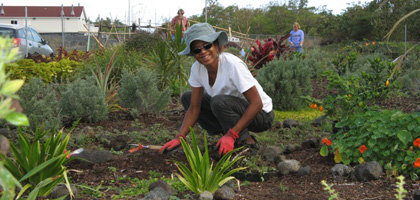 What is a Master Gardener?
The mission of the University of Hawaii Master Gardener program is to provide home gardeners with unbiased, research based information and sustainable management practices in tropical horticulture.
The Master Gardener program is an educational outreach program administered by the University of Hawaii Cooperative Extension Service. It is part of a larger network found throughout the United States and Canada. Master Gardeners seek to help members of the public get answers to their gardening questions using resources and expertise provided by extension agents and university personnel.
East Hawaii Master Gardeners love to garden and to learn. Some of us have lived in Hawaii all our lives and have learned the local ways of growing food and landscape plants from our neighbors and kupuna. Many of us have moved here from the mainland and have had to learn an entirely new way of gardening. Part of being a Master Gardener is learning methods that are based in science. We do not always have answers for every gardening question, even after taking the course, so part of our training is learning how to do research.
Being a Master Gardener is more than taking a gardening class. It requires a commitment to extensive class time as well as volunteer hours upon completion of the class. The volunteer requirement is a minimum of 40 hours in the first year to meet certification, 20 of which must be on the Helpline. In subsequent years, the volunteer requirement is 20 hours to maintain certification, though many Master Gardeners do much more than this. You may want to read about our 8 Huis to get an idea of how we serve the community and enjoy gardening with one another.
Hawaii Island Master Gardeners
Photo credit: Nancy Hosticka