Kauaʻi Master Gardener
News and Updates
According to CTAHR Kauaʻi Administrator Russell Messing, "the Kauaʻi Master Gardeners provide a great service to the community, donating time, knowledge, and heart to gardens and growers throughout the island. We are proud to have them as an integral part of our outreach efforts for the UH-Manoa College of Tropical Agriculture and Human Resources (CTAHR)."
READ MORE about the graduation of the latest class of Kauaʻi Master Gardeners in The Garden Island: Certified Green Thumbs.
"Our 35 volunteer members have put in over 2,000 hours this year, working in school gardens and community beautification projects," said Pat Fallbeck, Master Gardener president. "They are a popular addition to the annual Garden Fair, the Agricultural Awareness Day, and the Kauaʻi County Farm Bureau Fair. And on a frequent basis, they are called upon by friends and neighbors to answer gardening questions. Master Gardeners are good for Kauaʻi."
---
Field Trip to Growing Greens Nursery
Past field trips included visits to the National Tropical Botanic Garden, Waimea United Church of Christ Garden, Kekaha Community Garden, and Growing Greens Nursery.
Field Trip to Waimea United Church of Christ garden
Master Gardeners also attend garden classes presented by fellow Master Gardeners to the general public. In 2011 garden classes presented by Master Gardeners included Container Gardening by Ruth Montalbano, Orchid Pests by Al Sugano, Personality Garden by Amy Christmas, and Growing Kale by Tom and Lisa Peterson.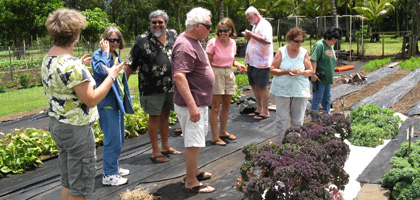 Growing Kale class