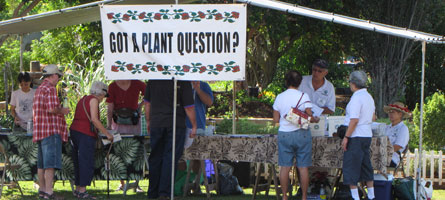 Oʻahu Master Gardener Program
Got a Plant Question?

The UH Master Gardener program is an offical Volunteer program of the University of Hawaiʻi Cooperative Extension Service. We are dedicated to disseminating local, research based information to assist home gardeners in decisions that affect themselves, our neighbors and our local and global environment. So much information about gardening in Hawaiʻi is located in Tropical Topics or Frequently Asked Questions. Look left, and click on these links in the lefthand side navigation bar. Enjoy exploring the wealth of information that we have to share with you.
If local information is not available on your subject, we are trained to find research based information and other reliable sources of information, so please contact us with your questions.
Thank you for contacting us with your questions! We believe that no questions are the worst questions. With so much beauty and diversity in Hawaiʻi, we have a BIG responsibility to have the right tools and correct information to protect our environment and we want to help your garden thrive.
Submit a question through E-mail: OahuMG@ctahr.hawaii.edu
Important information to include is the name of your plant and the symptoms that you are observing. We love pictures! If you are sending a picture through email, please include a close-up of the problem area as well as a picture of the entire plant. This will help us diagnose your problem or identify your insect.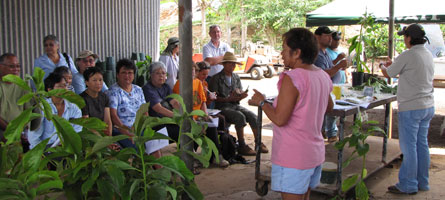 Oʻahu Gardening Questions
Find Us to talk story about your garden or submit a plant or insect sample at your local Farmers Market.
You can also Find Us to talk story about your garden or submit a plant or insect sample at Second Saturday at the Garden! program every month on the 2nd Saturday of each month.
NEW! Recent Change to our UH Urban Garden Center Plant Helpline Walk-in Hours starting March 1, 2017.
We will be staffing our Helpline at the UH Urban Garden Center on Wednesdays, 9am-12pm. This service was previously open Monday – Friday every week throughout the year. We are now transitioning to being more present in your local community and we are receiving increased questions by email. To respond to this change, we have updated our Plant Helpline and Walk-in times. This service is now available each Wednesday, 9am-12pm, except holidays.
Stay tuned for Plant Helpline and office hours located in Waimanalo and Manoa! Contact Jayme Grzebik at Grzebik@hawaii.edu for more information.
Like the Oʻahu Master Gardeners on Facebook.

Join Us!
Master Gardeners are dedicated volunteers who disseminate researched based information to the public. We invite you to join us! We conduct a training class for new Master Gardeners every year, from January to end of May. We meet at the UGC Classroom 9AM -12PM, each Friday for 16 weeks. Click here for an invitation and instructions on how to be added to our application mailing list.
Visit us at your local Farmers Market!
Bring your home gardener question to our "Got a Plant Question" Booth at your local farmers market! Purchase UH Vegetable Seeds for your home garden!
Tips: When bringing plant samples with suspected plant disease be sure to bring new leaves AND old leaves, include flowers or fruits that show symptoms. Dead leaves or rotting fruit does not allow us to see all the symptoms of the problem! Pictures of the garden or plants showing stress is encouraged! Please read here for more information: Collecting Plant Disease and Insect Pest Samples for Problem Diagnosis.

Educational Outreach
Oʻahu Master Gardeners are reaching out to home gardeners, school garden educators, elementary school students, and plant industry professionals! Click the links below to find out more!
Do you have a request for a Gardening Presentation for your local organization taught by a UH Master Gardener? Please request at least 1 month in advance via our on-line form.
Annual Events where you can find "Got a Plant Question" Master Gardener booths