Manure Sampling, Nutrient Content, and N Mineralization
N.V. Hue, Glen Fukumoto, Mike Duponte, Lincoln Ching, Carl Evensen, and John Powley
Introduction
I am sure that most of us enjoy luaus. But can you imagine a luau without meat, especially roast pork from a suckling pig? My point is that live-stocks are important to Hawaii, not only agriculturally and economically, but also culturally.<![if !vml]>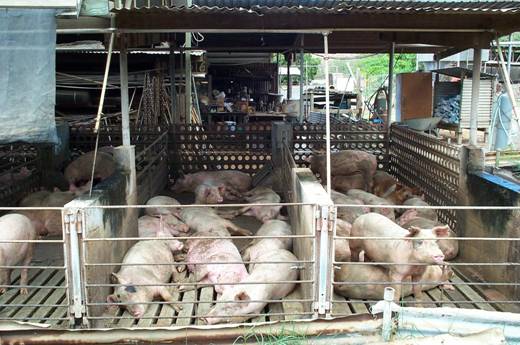 <![endif]>
A pig farm in Waianae, Oahu.
However, unlike most tourists, who are only concerned about their tender steaks or juicy pork chops, we as Hawaii's residents, must take care of the whole business of raising animals.  A recent Hawaii Agricultural Statistics  report (2003) shows that in 2002 the State had 150,000 head of cattle, 24,000 head of hogs and pigs, and over 500,000 chickens.  These numbers may seem small by the standards of Arkansas, Iowa, or North Carolina, but we all know that our land in the islands is limited, and the State's image of sun and fun must be maintained at any cost. Thus, for us, as workers in the areas of natural resources conservation/management or soil science, the animal manure issue is a serious challenge, from the standpoint of pollution prevention to nutrient usage.
How do we manage animal manure? <![if !vml]>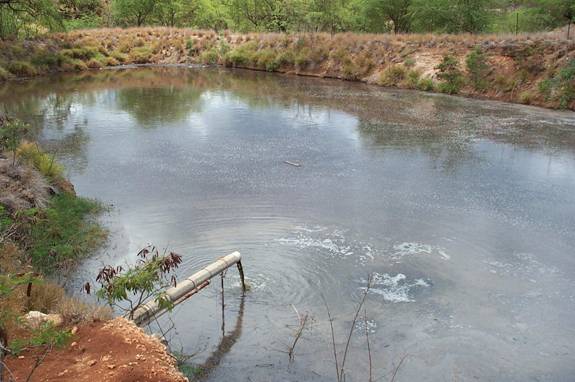 <![endif]>
A hog-waste lagoon in Oahu.
I believe one of the goals of this workshop is how to properly manage animal manure. I'm sure several speakers will provide technical details on how to achieve this goal. In my opinion, the first step would be (1) proper sampling of manure, (2) accurate analysis of its content in terms of plant nutrients and perhaps heavy metals, and pathogens, and (3) knowledge of the transformation/biochemical reactions that occur when a pile of manure is added to our soil. I hope this presentation will provide some thoughts for discussion. I will cover three topics: (1) manure sampling, (2) nutrient composition of different types of manure, and (3) manure decomposition and nitrogen (N) mineralization.
Manure Sampling
It is logical to expect that we must have a representative sample of the manure before we can make any sound decision about its beneficial use or even its disposal. Although the topic of sampling is important, I won't cover it much here, because the next session will deal in more details with sampling protocols.
The key point is that you need to get a small sample that adequately represents a big manure pile or a large lagoon. A most often used technique is to sample in a zigzag or W-shaped pattern. As an example, for a chicken house, walk the entire house and grab 15 to 20 sub-samples with a shovel. Place subsamples in a plastic bucket and mix thoroughly. Take a small sample from the bucket and place it in a zipper plastic bag. Double bagging is recommended for safety reason.
<![if !vml]>
<![endif]>
Waste sampling procedure, using a zigzag pattern. (Adapted from Coffey et al., 2003).
<![if !vml]>
<![endif]>
Taking solid litter sample with a spade or shovel. (Adapted from Coffey et al., 2003).
Sometimes, it is necessary to divide the facility into several zones or areas, such as brooder versus non-brooder areas. Sample each area separately.
Manure slurries/effluent from lagoons
The sampling principle is the same, but the equipment is obviously different.
(1) Pole and cup method
Here you would need a plastic cup with a long, 10 to 15 feet, handle. You collect about 10 -12 sub-samples by extending the sampling device toward the center of the lagoon, and dip a cupful of lagoon effluent. Mix them together in a plastic bucket and fill a 1-liter plastic bottle to about two-thirds full with the composite sample. If the lagoon is large, then you may need a small boat to complete the sampling.
<![if !vml]>
<![endif]>
(Adapted from Coffey et al., 2003).
(2) Close-end pipe method
The device consists of an 8 to 10 foot long PVC pipe, about 2 inches in diameter, with a rubber ball (about 2 and a half inch diameter, attached by a nylon string inside the pipe). Collect about 10 -12 sub-samples from different locations around the lagoon or holding pond. Dip the sampling device within the bottom foot of the storage structure, into the manure slurry, then pull the nylon string attached to the rubber ball to seal the slurry within the sampling device. Empty the content into a plastic bucket, then collect a small portion of that composite sample. Fill a 1-liter bottle only ½ to 2/3 full because gas will be generated.
<![if !vml]>
<![endif]>
(Adapted from Coffey et al., 2003).
Here is a picture of the sampling activity by Drs. Evensen and Zaleski.
<![if !vml]>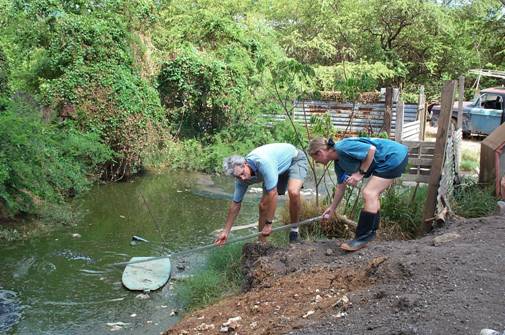 <![endif]>
Manure sampling with the close-end pipe method.
Send the samples as soon as possible to an analytical lab for nutrient/pathogen analysis. What do we need to know? In my opinion, at the minimum we need to know percent solids (for effluent samples) or percent moisture for solid manures, and such nutrients as N, C/N, P, K, Ca, Mg. You may also need to know about micronutrients. For example, swine manure may contain high levels of Cu as a result of Cu supplements in the diet.
Nutrient composition of animal manures
We all know that the manure composition varies with many factors, including: (1) type of animals: manure from chickens is usually different from that from cows or horses; (2) kind of feed consumed: manure from grass-fed cows is unlikely similar to that from cows in a fattening feedlot; (3) Bedding materials used: straw, saw-dust or soil would dilute the nutrient content of manures; (4) Method of handling: is the manure fresh or composted? That makes a difference in terms of nutrient content and decomposition rate.
Below are some averaged nutrient contents from local farms. First, let's look at the nutrient composition of lagoon effluents.
<![if !vml]>
<![endif]>
                                                            Lagoon Effluents
<![if !vml]>
<![endif]>Manure type         pH             EC      N            NH4-N       P               K               Cu
                                                dS/m ß------------------- mg/L -----------------------à
Dairy                     8.2             6.4       396        184           15              1197         0.3
Swine                   7.9             5.9       588        566           18              512           0.1
<![if !vml]>
<![endif]>
There are a few observations that we can make: (1) pH is always alkaline, EC is a bit high by irrigation water standards, but not too alarming depending on the receiving soils and the proportion of good water used in mixing before irrigation.  (2) Nearly 50 – 95% of total N is NH4, which averages about 400 mg/L or ppm. (3) Phosphorus is about 15- 20 ppm, most of it is probably in organic forms, based on my experience with waste waters.
Next, let's look at the manure solids. The dry matter can vary between 35% and 70% (the actual range was 15-80%), depending on the processing procedures. pH and EC (soluble salts) were quite high. Some seedling burns may occur if these materials are not properly applied. Total N and P are usually higher in chicken manure than in cattle manure, probably due to different feed-stocks and animal physiology. Two key points that we should notice are (1) the C/N ratio is less than 15 and the N/P ratio is less than 2. Why are these 2 ratios important? This is because they may control the rate of N mineralization of the manure and the balance between N and P requirements and uptake by the plants.
<![if !vml]>

<![endif]><![if !vml]>

<![endif]>                                                                        Manure Solids
M. Type          DM         pH       EC      C         N         P         K         Cu          C/N     N/P
                        %                        dS/m   ß-------- % ----------à            ppm      
Dairy pen       71           8.7       20        28        1.9       1.0       2.4       120        14.7    1.9
Chicken          35           7.9       30        27        3.2       2.8       2.0       88          8.4      1.1
Swine pen      --             --          --          --          2.1       2.6       0.5       90          --          0.8
<![if !vml]>

<![endif]>
Another question you may ask is: Are manures from animals raised in Hawaii significantly different from manures elsewhere, especially in the mainland US? As far as I can tell, the answer is NO.
Here are some data from the literature (Eck and Stewart, 1995) to support this conclusion.
Nitrogen, phosphorus, potassium, all seem to be similar to the local values. However, the local manures seem to contain a bit higher Cu than those reported in the literature. Personally, I don't think this is a concern, because (1) most of Cu in manures is probably in organic forms, which are much less toxic to plants and animals than Cu 2+, (2) swine manure can contain as high as 600 ppm Cu, and (3) The EPA limit of Cu in human bio-solids and animal manures for land applications is 1500 ppm (EPA, 1994).
Manure type                     DM            N            P            K               Cu
<![if !vml]>

<![endif]>                                          ß-------------- % -----------------à              ppm
Broiler litter                      31              2.3          1.1          1.7             29
Hen litter                           43              2.0          1.9          1.9             31
Dairy cow                         11              2.7          0.5          2.4             28
Fattening cow                  10              3.5          1.0          2.3             23
Hog                                   29              2.0          0.6          1.5             18
Horse                                28              1.7          0.3          1.5             19
<![if !vml]>
<![endif]>
Manure decomposition and nitrogen mineralization
Decomposition is defined as a process in which manure carbon is released by microbial actions to gaseous CO2. For example, carbohydrates in (sugar components of) the manure can be oxidized to H2O and CO2 as shown in this simplified reaction:
            C6H12O6  +  6O2  ===è  6H2O  + 6 CO2   + energy
Because of decomposition, manures can lose much of their weight if given enough time and favorable microbial populations. Nitrogen content of the decomposed manure is usually higher than that of the "initial" or fresh manure. This is because much more C would be lost as CO2 than N as NH3.
Nitrogen mineralization, on the other hand, is the conversion of organic N, mostly proteins, into inorganic N such as NH3 (or NH4 in the presence of water) and NO3. This process also requires microbial actions. Generally, microbes break down proteins into amino acids with the aid of appropriate enzymes. These amino acids, in turn, are incorporated into microbial cells, using organic carbon as the energy/substrate source. However, if the readily oxidizable C source is low relative to the amino acids, then the excess amino acids will be oxidized to NH3 as shown here:
            CH3CHNH2COOH  + ½ O2  ====è CH3COCOOH      +       NH3
            Alanine (amino acid)                           Pyruvic (organic acid)
<![if !vml]>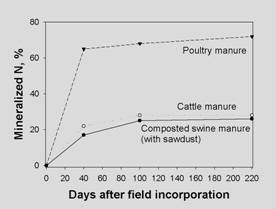 <![endif]>Thus, the C/N ratio of manures and manure-amended soils is important to the N mineralization process.  Values of C/N < 15 strongly favor this process (Hue and Sobieszczyk, 1999).
<![if !vml]>
<![endif]>
Organic C released and organic N mineralized from manures in a short term (< 1 year). Taken from Shiga, 1997.
Please keep in mind that manure decomposition in soils (as measured by CO2 production) does not necessarily coincide with N mineralization in the short term (say, a few months or a growing season).
Dr. H. Shiga from the Research and Development Center for Dairy Farming in Sapporo, Japan has done many good experiments on these processes. I'd like to present some of his results to illustrate the points. The distinction between the 2 processes may be important for manure management in providing N to annual  crops. In the long term, say 2 to 5 years, the two processes are virtually parallel, as shown here for cattle manure from Dr. Shiga's work (1997).
<![if !vml]>
<![endif]>
Organic C released and organic N mineralized from a cattle manure  applied to upland rice soils in Japan. Taken from Shiga, 1997.
You may ask next: how fast would organic N from the applied manure become NH4 and/or NO3? Frankly, I do not have any good answer to this question, because of the following reason. We all know that the decomposition and N mineralization of a manure when applied to a soil depends on many factors, including (1) manure properties (C/N ratio, as an example) and its application rate, (2) soil properties (pH, toxic metals, moisture, temperature), and (3) interactions between the manure and the soil. So site-specific studies would be required to get an accurate prediction of N supply to a crop or the potential leaching of NO3 from manure applications. On the other hand, some general estimates of N mineralization rate have been provided to guide both growers and environmental regulators. For example, the USDA has put out a field guide of waste utilization (Part 651, 1996) with these numbers (extracted from Table 11-9).
<![if !vml]>

<![endif]>
<![if !vml]>

<![endif]>Manure Type                                            Years after initial application
                                                                  1                      2                      3
                                                                  ß % N available (accumulative) à
Fresh poultry manure                              90                    92                    93
Fresh swine or cattle                              75                    79                    81
Swine or cattle manure                           65                    70                    73
   Stored in covered storage                 
Effluent from lagoon or                           40                    46                    49
  Diluted waste storage pond          
<![if !vml]>

<![endif]>
I suppose, as an environmental regulator, I would be more concerned about NO3 pollution of waters, so I would use the upper-end of the N mineralization range to play it safe in protecting the environment.
On the other hand, as a crop grower, I would use the lower-end of the N mineralization scale to ensure that my crops have enough N as shown in the following table extracted from a popular soil science text book (Brady and Weil, 1999).
<![if !vml]>

<![endif]>
<![if !vml]>

<![endif]>Manure Type                                      Years after initial application
                                                            1                      2                      3                      4
                                                            ß------ % N available (accumulative) -----à
Poultry floor litter                                50                    65                    73                    76
Dairy (fresh solids)    35                    53                    62                    66
Swine manure, lagoon liquid           50                    65                    73                    76
<![if !vml]>

<![endif]>
The fact is that either end of the N mineralization scale can be selected, depending on your philosophy and purposes. However, be sure to do some experimental work to support/validate your selection. Some experimental results from Dr. Shiga's work in Japan are shown below.
Rate of N mineralization 8-12 months after manure applications to upland rice soils in Japan (Shiga, 1997).
<![if !vml]>
<![endif]>
Manure type                                       C/N ratio                     % N mineralized
<![if !vml]>
<![endif]>                                                            of manure                     in soil
Poultry (1 year)                                  10.7                            61
Swine (8 months)                              9.8                              61
Cattle (8 months)                               15.8                            30
Cattle (1 year)                                    20.3                            47
<![if !vml]>
<![endif]>
There are also many mathematical models and computer programs to help you predict N mineralization rate.  One of such models uses first order kinetics of the form:  Nm  = N0[1 – e –kt]
Where Nm is the amount of N mineralized at a specific time t, and N0 is the mineralization potential at time zero, k is the rate constant. N0 and k must be experimentally determined, usually by incubating the manure of interest with the target soil for several weeks (24 – 30 weeks), and periodically measuring the amount of NH4 + NO3 released.
An example is the work of Chae and Tabatabai (1986) at Iowa State University, who applied 50 ton/ha of several manures, including chicken, hog, horse, cow, and human bio-solids to five Iowa's soils and incubated the treated soils for 26 weeks. Their findings (for chicken manure) were: N0 ranged from 456 to 758 mg N per kg soil, and k from 0.023 to 0.067 per week. They concluded that soil type had marked effects on No and K constants for each manure. (The N mineralization percentage varied from 13 to 67% during the 26-week incubation period.).
In summary, as residents of Hawaii and/or workers dealing with animal production, waste and nutrient management or natural resources conservation, we must meet the animal manure challenge. As a first step, we must collect representative manure samples, have them analyzed accurately, then develop/obtain locally suitable carbon decomposition rates and nitrogen mineralization patterns and parameters.
Who says there's no hard work in paradise, Hawaii?
References
1. Hawaii Agriculture Statistics. 2003. http://www.nass.usda.gov/hi/lvstk/. Accessed August, 2003.
2. Coffey, R.D., G.R. Parker, K.M. Laurent, and D.G. Overhults. 2003. Sampling animal manure. College of Agric., Univ. Kentucky, ID-148.
3. Eck, H.V. and B.A. Stewart. 1995. Manure. p. 169-198. In: J.E. Rechcigl (ed.) Soil amendments and environmental quality. Lewis Publishers, Boca Raton, FL.
4. EPA. 1994. A plain English guide to the EPA part 503 Biosolids rule. EPA/832/R-93/003.
5. Hue, N.V. and B.A. Sobieszczyk. 1999. Nutritional values of some biowastes as soil amendments. Compost Sci. & Utilization. 7:34-41.
6. Brady, N.C. and R.R. Weil. 1999. The nature and properties of soils. 11th. ed. Prentice Hall. Upper Saddle River, NJ.
7. Shiga, H. 1997. The decomposition of fresh and composted organic materials in soil. Food and fertilizer technology center, Ext. Bull. 447. Taipei, Taiwan.
8. USDA. 1996. Pert 651. Agricultural waste management field handbook. Chapter 11.
9. Chae, Y.M. and M.A. Tabatabai. 1986. Mineralization of nitrogen in soils amended with organic wastes. J. Environ. Qual. 15:193-198.