My extension program addresses a diverse set of landscape issues in the state of Hawaii to help protect and enhance Hawaii's natural and urban environments and resources by providing indispensable landscape knowledge and technologies to improve the management of Hawaii's resources which support landscape industries, as well as enhancing both the natural and urban environment.
This is accomplished in part by providing essential landscape theory, practical knowledge and technologies to generate and improve landscape products and processes for existing and expanded landscape design, installation and maintenance markets throughout our State.
Education and training activities include presentations, publications and workshops for extension agents and industry groups such as, LICH (Landscape industry Council of Hawaii), AAA (Aloha Arborist Association), ASLA, Hawaii (American Society o Landscape Architects), ONGA (Oahu Nursery Growers Association, KLIC (Kauai Landscape Industry Council, MALP (Maui Association of Landscape Professional, Big Island Association of Nurserymen, HILA (Hawaii Island Landscape Association, City and County of Honolulu, CGAPS (Coordinating Group on Alien Pest Species), Kaulunani Urban Forestry, Local Community Colleges, Local High Schools, and Community groups such as the Outdoor Circle, and Na Kamalei.
My Plan of Work Model outlines the components I feel will assist in strengthening Hawaii's individuals, families and communities by improving the social, psychological and physical health and wellness through the effective implantation of landscape industry services and products.
Extension Publications & Posters
Extension Workshop Agenda's Link
---
Developing and Expanding Hawaii's Landscape Industries and Extension Strategies for Tropical Landscapes
Plan of Work Logic Model 2007-2012
Click on the flow chart below to enlarge it in Acrobat Reader.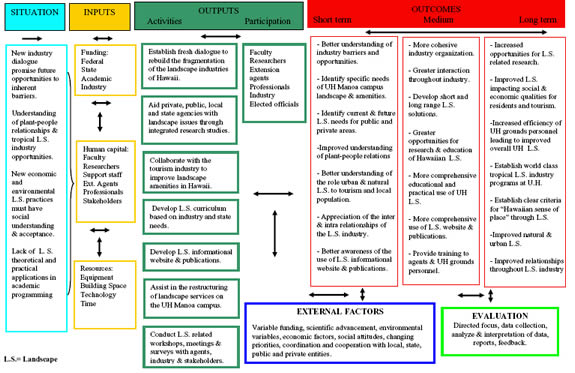 Extension field trip visiting various landscape nursery operations on Oahu

Mayor's Arborist Advisory evaluating trees at
Ala Moana Park & Foster Botanic Garden