Highly Weathered Tropical Soils (Oxisol)
Typical Characteristics
Climate: Oxisols are the most highly weathered soil order. These soils form under year-round hot, tropical climates. Although climatic pattern may have changed over the course of the soil's history, these soils formed under moist climates.
Mineralogy: While the subsurface soil layers contain clay particles, the layer is loaded with hydrous oxides of aluminum and iron. Hydrous oxides are the products of intense weathering of minerals, after much of the silica has leached away from silicate minerals, such as kaolinite.
Physical Traits: Highly weathered soils generally resist compaction and allow water to move and drain freely.
Productivity: Although these soils generally contain low activity clays, highly weathered, tropical soils are nonsticky and workable. Oxisols form strong aggregates, do not have a shrink and swell potential, and are resistant to erosion. However, nutrient cations, such as calcium, magnesium, nitrate, and potassium, must be added to the soil. Phosphorus may also be limited, because it tends to form strong bonds with the oxides. Organic matter can be added to increase the availability of phosphorus.
Highly Weathered Tropical Soils of Maui
Moist/dry highly weathered soils with high base saturation (Eutrustox)
Lahaina Series
Molokai Series
Unique Characteristics of Oxisols of Maui County
The highly weathered, tropical soils of Maui are unusual, because they are located in drier regions of Maui. Nevertheless, these highly weathered soils formed under much wetter conditions. A representative Oxisol on Maui is the Lahaina Series.
Location: The Laihaina series, located in the intermediate uplands of West Maui, occupies 21,000 acres with elevations ranging from 10 to 1,500 ft.
Texture: Silty clay
Rainfall and Temperature: The average annual rainfall falls between 20 and 35 inches, with average temperatures of 73 degrees F.
Slope: Nearly level to steep
Parent Material: The Lahaina Series soil formed in place from basic igneous rock with alluvial deposits. May contain fragments of coral, sand, and gravel.
Depth: Surface layer extends 15 inches. Subsoil is approximately 45 inches.
Physical Traits: The Lahaina series has slow to rapid runoff, moderate permeacility, and good drainage.
Color of Surface Horizon: Dark reddish brown
Fertility: Unlike many of the world's other Oxisols, the Lahaina Series can sufficiently supply plant nutrients. It is quite workable, though irrigation is required.
Acidity: Medium acidity
Natural vegetation Cactus, kiawe, lantana, and koa haole.
Agricultural Use: Pineapple and irrigated sugarcane
The Lahaina Series is acidic, and although it is not as fertile as less weathered soils, it still supplies base cation nutrient unlike many highly weathered soils.
| | | | | | | | | |
| --- | --- | --- | --- | --- | --- | --- | --- | --- |
| Depth (cm) | Org. C | N | Fe Sat | Al Sat | Ca | Sum Base | Sum Cation | pH water |
| 0-13 | 1.74 | 0.198 | 11.7 | 1.1 | 4.9 | 7.1 | 21.5 | 5.3 |
| 13-30 | 1.18 | 0.125 | 12.5 | 1.2 | 4.1 | 5.5 | 19.9 | 5.5 |
| 30-56 | 0.82 | 0.102 | 13.3 | 1.3 | 4.6 | 6.2 | 17.5 | 6.2 |
| 56-81 | 0.70 | -- | 15.9 | 1.7 | 5.2 | 7.4 | 17.0 | 6.8 |
| 81-107 | 0.72 | -- | 15.4 | 1.9 | 4.8 | 7.5 | 17.9 | 6.8 |
| 107-152 | 0.42 | -- | 12.6 | 1.3 | 3.2 | 5.7 | 14.6 | 6.6 |
| 152-168 | 0.45 | -- | 11.2 | 1.1 | 3.5 | 6.1 | 14.8 | 6.7 |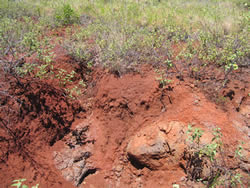 Photo by Tai McClellan