Rodents. Rats and mice feed on noni fruits and on the basal stems of young seedlings.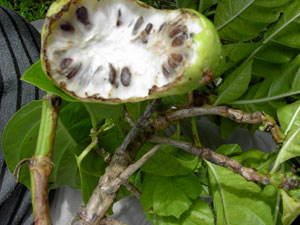 Rodent feeding damage on green noni fruit still attached to stem.
---
Birds. Birds feed on noni fruit and also seek insects that may penetrate inside the noni fruit.

Bird feeding damage to a ripening noni fruit.
---
Slugs. Slugs attacks the basal stems of young noni seedlings and may attack leaves and fruits.

Slug damage to noni fruit. Note the presence of the slimy, shiny slug trail near the center of the image.
Dodder. Dodder is a yellowish-orange, viny, parasitic seed plant (Cuscuta sandwichiana) that attacks lada (noni, Morinda citrifolia) on the island of Rota, Northern Marianas.

A noni plant on Rota, heavily infested with dodder (Cuscuta sp.). The yellow stems of this parasitic plant hang from the affected noni branches. Dodder has a slowly debilitating effect on the noni plant.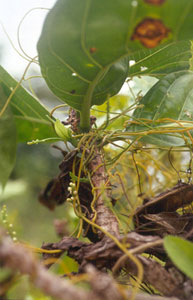 Yellow strands of flowering dodder encircle and choke a noni stem and foliage.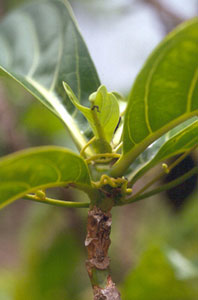 Dodder encircles and penetrates noni leaves and stems, absorbing cellular fluids.

Dodder flowers and yellowish-orange, viny stems.