Wild noni plants on the island of Rota (in the Northern Marianas Islands) express a range of nutrient deficiency symptoms where soil conditions are poor or inadequate to support good plant growth. The following nutrient deficiency symptoms were observed at the Bird Sanctuary on Rota, where an alkaline soil predominates. To determine the exact cause of these deficiency symptoms (i.e., which nutrients or elements are limiting to growth) would require an analysis of tissue and soil samples.

Nutrient deficiency symptoms can usually be corrected with the required application of the proper fertilizer(s).
---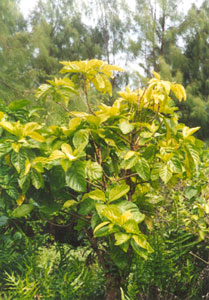 A wild noni plant at the Bird Sanctuary on Rota, expressing severe nutrient deficiency symptoms. The symptoms of apical and interveinal chlorosis (yellowing) are probably caused by a minor element deficiency, such as iron (Fe).
---

Interveinal chlorosis (yellowing between the leaf veins) on young leaves is associated with deficiencies in certain minor elements, such as iron (Fe).
---

The curling and purpling of these noni leaves suggests a possible deficiency in phosphorous (P).
---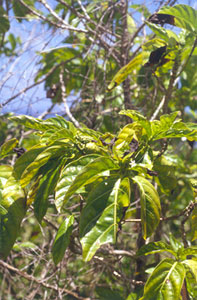 Foliar yellowing and leaf scorching of noni leaves on a wild plant at the Bird Sanctuary in Rota. This plant may be expressing multiple nutrient deficiencies.