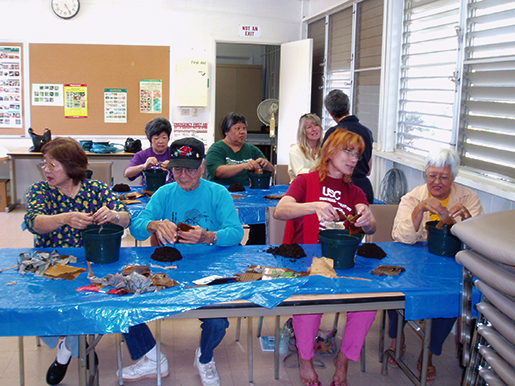 HOW DO I BECOME A MASTER GARDENER?
Oahu Master Gardeners attend three-hour classes held once a week for sixteen weeks. The classes are in plant science, horticulture, environment, pruning, plant propagation, soils, plant nutrition, insects, plant diseases, weeds, integrated pest management, pesticides, vegetables, fruits, lawns, ornamentals and landscape design. Everyone who passes the training and volunteers for forty hours to the Master Gardener Program becomes a Master Gardener.
HOW DO I APPLY FOR MASTER GARDENER TRAINING?
A new class of Master Gardeners is trained every year at the Urban Garden Center, Pearl City on Oahu. The next class dates will be announced. If you are interested in an application, please call Ethel at 453-6050 or email to ugc@ctahr.hawaii.edu with your name and mailing address to be sent an application.
HOW CAN I BE MORE INVOLVED WITH FELLOW MASTER GARDENERS?
You will be invited to join the Oahu Master Gardener Association. Oahu Master Gardeners contribute by recruiting people for new classes, mentoring new volunteers, teaching, writing newspaper articles and advising on program changes. The association holds monthly meetings, providing an informal social environment in which graduates of the Oahu Master Gardener program can meet to exchange ideas, be offered advanced training and volunteer opportunities or simply enjoy mingling with other gardening enthusiasts. Many of the meetings feature guest speakers or garden tours or assisting the Urban Garden Center. The Association also hosts the annual Graduation Lunch.
MORE INFORMATION
The Master Gardener year is June 1 to May 31. The volunteer hours must be completed by June of the year following your training. First year volunteers are termed "Intern Master Gardeners." Once volunteer service is completed, volunteers are called "Master Gardeners."
Maintaining your Master Gardener status requires 10 hours of additional education and 40 hours of volunteer time annually.
HOW TO CONTACT THE MASTER GARDENER HELP LINE
Gardeners throughout Oahu can speak with a Master Gardener nearly every day of the week. Call us about your sick plants or gardening questions Monday through Friday, 9 a.m. to 12 p.m. You may need to leave a detailed message and we will get back to you as soon as possible. We occasionally have plant diagnostic clinics at plant sales or farmers' markets. The Oahu Master Gardener organization works in partnership with the Pearl City Urban Garden Center. For help with your plant problems, please call the Help Line Monday through Friday, 9:00 a.m. - 12:00p.m. at (808) 453-6055.