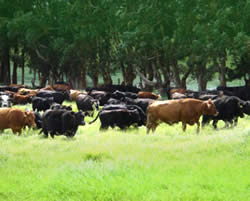 Introduction
Aloha! This is the CTAHR Beef Initiative Program final update report to the Hawai'i beef cattle industry, as funding for the program ends in fall 2008. As team leader, I believe that the CTAHR team of researchers, extension specialists, extension agents, research station technicians, and research support staff has made many significant contributions to the beef cattle production knowledge base. On behalf of all team members, I would like to acknowledge the individual ranchers who cooperated with the team on various projects and extend thanks to all industry participants in our outreach programs and to cooperating agencies for their respected partnerships and participation in this four-year effort. We hope to keep the team involved in continued interaction with the beef industry through specific funded project areas, and we hope for broader funding to continue supporting research and outreach efforts for the Hawai'i beef cattle industry.
Special acknowledgment goes to CTAHR Dean Andrew Hashimoto for his belief in and vision for the Hawai'i beef cattle industry and for entrusting to our team the task of delivering meaningful outputs and adoptable outcomes for tropical and subtropical livestock production systems. Institutional measures of success are tabulated by grant dollars leveraged and publications generated. I believe this program has been tremendously successful, as the team has received additional grant funds of more than $1.41 million dollars ($4.36 leveraged for each dollar of initial seed funding); produced three journal articles, seven national abstracts, and 21 CTAHR publications; and made more than 25 national and statewide presentations.
The CTAHR team of researchers and extension educators encourage you to review our cumulative accomplishments from the winter of 2004 to the winter of 2008. We welcome input, comments, and suggestions from the individuals and communities we serve through this program.

Mahalo,
Glen K. Fukumoto
Team Leader, CTAHR Beef Initiative Program

Our vision: Hawai'i will be the leader in tropical and subtropical cattle and forage production systems.
Objectives
The CTAHR Beef Initiative is a major endeavor and commitment by the University of Hawai'i at Manoa's College of Tropical Agriculture and Human Resources to partner with the Hawai'i beef industry to stimulate growth, economic diversification, and environmental sustainability for agriculture in Hawai'i. The beef industry will continue to be a leader for the vision of pastoral livestock agriculture in Hawai'i and remain an important contributor to diversified agriculture, the state's economy. and Hawai'i's cultural heritage.
The objectives of the program are to improve the competitiveness, profitability, and sustainability of the
beef industry by
developing and implementing effective research and innovative extension programs for animal
production in Hawai'i and other tropical regions

improving communications among the beef industry, interagency partners, and CTAHR

supporting the industry on legislative and other governmental issues, policies, and partnerships.
Funded By
USDA, Cooperative States Research, Education and Extension Service Special Grant, entitled Hawaii Agricultural Diversification—New Crop/Product Development and Marketing. Funding cycles 2003, 2004, and 2005, listed
below:
USDA CSREES Special Grant, 2003-34172-14053l; $113,672.00
USDA CSREES Special Grant, 2004-34172-15187; $105,866.00
USDA CSREES Special Grant, 2005-34172-16441; $104,637.00



Cooperating Agencies and Organizations
Hawai'i Department of Agriculture
Hawai'i Department of Land and Natural Resources, Division of Fish and Wildlife

Hawai'i Department of Hawaiian Home Lands

USDA, Natural Resources Conservation Service

USDA, Animal and Plant Health Inspection Service

Hawaii Cattlemen's Council, Inc.

Hawaii Cattlemen's Association

Maui Cattlemen's Association

Hawaii Grazing Lands Conservation Initiative Coalition

Hawaii Cattle Producers Cooperative Association

Ranch and Allied Industry Collaborators
Kahua Ranch, Ltd.
Ponoholo Ranch
Olumau Angus Plus, LLC
Kuahiwimalu Ranch
S. Akana Ranch
Princeville Ranch
Haleakala Ranch
Habein Livestock Co.
Maui Cattle Company
Kulana Foods, Ltd.
Hawaii Big Island Beef
Pu'uwa'awa'a Ranch
Beef and Blooms
Ms. Joan Namkoong
Mainland Research and Extension Partners
Tyson Fresh Meats, Wallula, Washington
Bruneau Cattle Co., Bruneau, Idaho
Swanton Pacific Ranch, Davenport, California
Rocky Mountain Institute, Snowmass, Colorado
Biotronics, Inc., Ames, Iowa