Frequently we conduct field surveys for aquatic Hyposmocoma to collect samples of an undocumented aquatic radiation of Hyposmocoma. On this trip, the team was composed of the PI Dan Rubinoff, graduate student Will Haines, laboratory assistant Clinton Pong and an aphidophile named Koen Van Elsen.
Here, Will gathers some Hyposmocoma off of the rocks.
The Hyposmocoma larvae were found on stream rocks above the water level and many were found exploring the mossy regions. In this stage of their life cycle, the tiny larvae (~1 cm in length) have a tube spun of silk. From the open end of their cone, the caterpillars can pull themselves along and eat. For seemingly sedentary creatures, they are surprisingly mobile. In the lab, we have observed them climbing up on the sides of our plastic tank, up onto transplanted moss clumps, and plunging underwater for extended periods of time!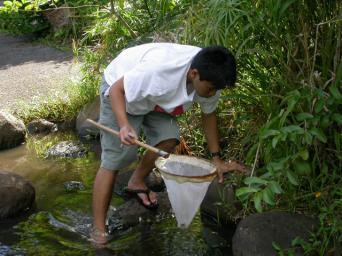 Here, Clinton beats the brush in an attempt to find grown moths.
On this trip, we were unable to capture any adult Hyposmocoma in the wild, but many were reared from collected larvae later.
Back to top