Student Ambassadors
Student Ambassadors are CTAHR student and alumni volunteers. It is the purpose of Student Ambassadors to recruit prospective students, to encourage student interest and participation in CTAHR, and to positively portray CTAHR to the University and community at large. Student Ambassadors represent the college in a variety of ways. They: give presentations about college life, the different majors within CTAHR, and career opportunities available with a degree from CTAHR. represent CTAHR at information and career/college fairs. are available for shadowing by prospective students. Ambassadors are available to travel to any high school or community college in the state of Hawai'i to make a presentation. They are more than happy to take prospective students to their classes and on a tour of the UH Mānoa campus.


Become an Ambassador
Student Ambassador Responsibilities:
Recruit prospective students to the College of Tropical Agriculture and Human Resources (CTAHR)
Encourage student interest and participation in CTAHR
Positively portray CTAHR to the University and outside communities
Benefits of Membership:
Develop and refine leadership and communication skills
Network with prospective students, students, faculty, staff, alumni and the community
Become knowledgeable about CTAHR and its programs
Create lasting friendships and associations
Have lots of fun!


Meet the Ambassadors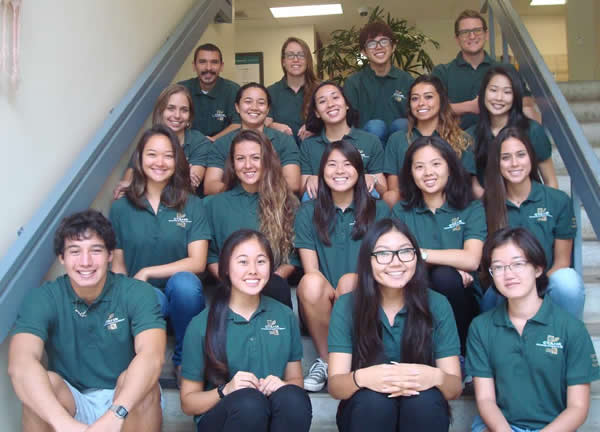 Front L-R: Michael DiMartino (BE), Flora Wang (FSHN), Kelli Sunabe (FDM), Marissa Madeira (FSHN)
Row 2: 'Olana Chow (NREM), Kira Fox (FSHN), Alisa Tseng (BE), Jaclyn Lee (BE), Mariah Martino (FSHN)
Row 3: Malina Ivey (MBBE alumna), Arby Barone (MBB), Lucia Amore (FSHN), Melina DeLaRosa (FSHN), Alyssa Anzai (FSHN)
Top Row: Roberto Rodriguez (MBBE), Leah O'Gorman (FSHN), Sheldon Arakawa (BE), Ross Villiger (FSHN)
Missing: Makana Agcaoili (MBB), Charlie-Lee Case (ANSC), Andrew Gerren (TPSS minor), Brandon Ngao (BE), Dessa Rentrop (FSHN), Tiffany Ulep (BE), Justeena Veltre (FSHN), Ericka Yiu (FSHN)


Please visit this page to read profiles on each of our student ambassadors.