CTAHR Cooperative Extension Service
Foods and Healthy Living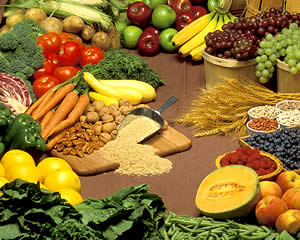 CTAHR is serving as a catalyst to strengthening the capacity of Hawai'i's families and communities to improve human health, wellness, and overall quality of life. The rise in obesity is contributing to an alarming increase in chronic diseases; nutrition science has linked human health to the nutritional value of foods and the consumer's dietary intake. CTAHR can play an important role in promoting healthy lifestyle habits and behaviors, such as making better food choices, to improve the quality of life of Hawai'i's citizens. CTAHR also is providing leadership in family and community safety, disease-exposure prevention, and food security and safety. Through outreach, CTAHR is helping protect our communities and families from contaminants and harmful household chemicals.
Children's Healthy Living Program (CHL)
The goal of Children's Healthy Living Program for Remote Underserved Minority Populations in the Pacific Region (CHL) is to build social/cultural, political/economic, and physical/built environments in partnership with local communities to promote active play and intake of healthy food, in order to prevent childhood obesity in Hawai'i, Alaska, American Samoa, the Commonwealth of the Northern Marianas, Guam, the Federated States of Micronesia, Palau, and the Republic of the Marshall Islands.
Hawai'i Foods
A website rich with information on local foods including nutrient analysis, photos, scientific names, recipes and publications. This website is a collaboration between CTAHR and CRCH (Cancer Research Center of Hawai'i).
Nutrition Education for Wellness
A statewide program that promotes nutrition and food safety education for the well-being of families and communities.
Diabetes Detection & Prevention
This multi-state collaborative aims to prevent diabetes and increase awareness of diabetes and related complications.
Engaged Instruction
An integration of Cooperative Extension with the Instruction program that provides students with real-life experiences and opportunities for contributing to their community.
Food: Just Grow It!
Hawai'i's Agriculture In The Classroom Project that promotes health and wellness through agriculture-related activities.
Food & Money Basics
A beginners' food and money management resource to assist limited income persons to manage their money while making healthy food choices.
Food Safety Resources
A web-based resources site on information for safe food handling at home and community events, food storage and food borne illness.
Fruits & Veggies - More Matters
Development and implementation of strategies and activities aimed at health promotion through increased vegetable and fruit consumption.
Germ City
A project to enhance awareness and improve the effectiveness of hand washing for food safety, personal hygiene and disease prevention.
Good Grinding for Wise Dining
Good Grinding for Wise Dining is a nutrition education curriculum for older adults to be used in a group dining setting. Based on the dietary guidelines and food guidance system, the Good Grinding curriculum promotes healthy eating attitudes and behaviors using simple, targeted messages and other evidence-based strategies.
Grocery Store Tour
A statewide project that promotes healthful shopping attitudes and behaviors using simple targeted messages and themes and promes consumption of veggies and fruits.
Grow Your Own
A beginners guide to basic horticultural techniques to increase access to a fresh, inexpensive, healthy food source through backyard/lanai gardening for home based food production.
Hawaii Child Care Nutrition Program
A statewide project to provide assistance and support to child care providers, agencies, and licensing staff.
Hawai'i's Supplemental Nutrition Assistance Program-Education
Hawai'i's Supplemental Nutrition Assistance Program-Education (SNAP-Ed, formerly Food Stamp Nutrition Education Program) Project collaboratively (Collaboration wheel and USDA-FNS Hawaii Council memorandum) provides practical nutrition education for Hawaii's low-income households.
Healthy Meetings for Wellness
Promotion of healthy eating and physical activity in our meetings, workshops, gatherings and events.
Kauai Kids Too
A series of hands-on lessons to help kids practice healthy eating and incorporate daily physical activity.
Lifeskills for Food Education
LIFE-II is an integrated and intergenerational project consisting of the Expanded Food and Nutrition Education Program (
EFNEP
) and UH-CES Supplemental Nutrition Assistance Program - Education (
SNAP-Ed
). This project provides practical life skills in food and nutrition for Hawai'i's limited income population.
Nutrition Integrity
Goal of "practicing what we teach" by aligning our food actions with our nutrition education. Guiding principles, core concepts and action checklists are included.
Nutrition Service for Older Adults
A statewide project to provide evidence-based nutrition education modules (Good Grinding for Wise Dining), monitor the senior nutrition program, and provide training and technical assistance to Area Agencies on Aging and their Nutrition Service Providers.
Produce A Plate
A simplified translation of the Dietary Guidelines using a plate.
Produce an Athlete
Tips on healthful eating with fruits and vegetables for young athletes.