Get Your Degree in Fashion Design and Merchandising


Fashion Design and Merchandising (FDM) is a comprehensive undergraduate program that prepares students for fashion careers around the world.
FDM is a premier fashion program in the Pacific. The curriculum teaches cutting-edge skills in computer 2-D and 3-D fashion design; apparel product development; entrepreneurship; retailing; and consumer behavior, attitudes, and consumption of textile and apparel products around the world.
FDM students
Plan, develop, merchandise, and evaluate the quality of apparel product lines
Recognize the global impact of fashion trends on the creation, production, and merchandising of fashion products
Understand the role of dress and fashion in society
Master computer design tools such as 2-D and 3-D software and Body Scanning technology for custom pattern design and fit
Learn textile preservation skills for historic Hawaiian, Asian, and other ethnic costumes
Engage in merchandising and retail merchandise assortment decision-making
Gain the knowledge and skills needed for careers in fashion design, merchandising, historic Asian and Hawaiian costume textiles, textile conservation and testing, and related fields.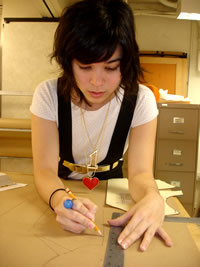 Work with Talented Faculty . . .
. . . who are recognized for their exceptional teaching and research skills. Our instructors include business and industry professionals experienced in retailing, apparel design, historic costumes, merchandising, and textile science.
Gain Valuable Skills . . .
. . . including computer-aided pattern design, production data management, and product life-cycle management. Explore testing methods in textile science and apparel evaluation. Access the largest historic costume collection housed in a university in the United States, with subcollections featuring dress from Asia, Hawai'i, and the Pacific Islands.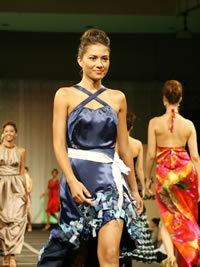 Team up with Award-Winning Students . . .
. . . recognized locally, nationally, and internationally for their achievements.
Open Doors to New Careers and Opportunities
FDM graduates have successful careers as fashion retail managers, fashion stylists, visual merchandisers, business owners, textile and fashion designers, fashion promotion and forecasting specialists, costume designers and curators, technical designers and illustrators, and international customs brokers. The program's strong academic grounding enables graduates to move into other businesses, technology-related fields, apparel product development, apparel production management, and education.
For Fun and Friends . . .
. . . Join the Innovators of Fashion and the national honor society Phi Upsilon Omicron. Work and play with other students in professional and community activities that facilitate connections within the fashion industry.

Innovators of Fashion club members
Make presentations on fashion careers to middle- and high-school students
Gain special events logistics training and experience through the annual fashion show production
Acquire fundraising experience by soliciting volunteers and donations for the annual fashion show, mall retail events, the Hawaii Food Bank, blood drives, feed-the-homeless projects, and other community activities
Sponsor student get-togethers and graduation events.
Are You Prepared?
Freshmen can be admitted directly into the program if they designate Fashion Design and Merchandising as their major when they apply to the University of Hawai'i at Mānoa. Students transferring from other colleges within the UH system or from other universities must have a cumulative GPA of 2.5 to be considered for admission.