Rx For Undernourished Macadamia Nut Trees


N.V. Hue and H.C. Bittenbender


College of Tropical Plant and Soil Sciences
University of Hawaii at Manoa
Macadamia (Macadamia integrifolia), sometimes referred to as Australia nut or Queensland nut, is a nut-bearing tree native of the subtropical rainforest of southern Queensland and northern New South Wales. Macadamia was introduced into Hawaii in the early 1900s where the superior quality of nuts soon attracted attention. Since then commercial cultivation of the tree has been expanding; over 20 thousand acres have been planted to the crop, especially on the largest island of the Hawaiian chain. The macadamia nuts, macnuts for short, are tasty and crunchy. They can be eaten either fresh, roasted or as chocolate-coated candy (see pictures). Due to the popularity and strong demands of its product, the macnut industry has contributed about 100 million dollars each year to the HawaiiÕs economy and has employed hundreds, if not thousands, people.
In recent years, large scale macadamia plantings have been expanded into abandoned sugarcane/pineapple lands usually of poor quality and high acidity. Thus, it is expected that macadamia will encounter serious nutritional problems in these new areas. A case in point is a disorder characterized by yellow and sometimes almost white color of young macadamia leaves due to the inefficient use of iron (Fe) by the plant (see picture).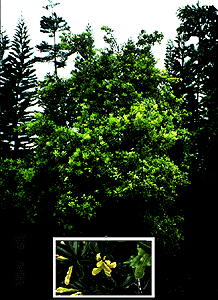 For this particular problem, our research has shown that an imbalance between Fe and phosphorus (P) in plant tissues is the cause: Although total Fe concentration in macadamia leaves seems normal (60 - 100 mg Fe/kg), excess P (greater than 0.15%) in leaves impairs Fe functions, depriving the plant of its normal green color and its ability to absorb carbon dioxide from the atmosphere to produce the nuts. This nutritional disorder, which could reduce the annual production of macnuts as much as 20 - 30%, can be diagnosed by a leaf Fe/P ratio of 0.06 or below and can be partially corrected by spraying with iron sulfate (FeSO4) or iron chelate solutions.
More fundamentally, diagnosis of nutrient deficiencies in crops, especially tree crops such as macadamia and coffee, has traditionally been based on sets of "critical" levels which assume each nutrient affects plant growth independently. However, as our research along with many others has shown that plant nutrients interact strongly with one another, and the balance among nutrients is as important as, or even more important than the absolute level of any nutrient itself in crop growth and reproduction.
This was the central theme of our T-STAR sponsored project entitled " Increasing Crop Productivity Through Soil and Plant Analysis, Using the Diagnosis and Recommendation Integrated System (DRIS)." Subsequently, we have established DRIS norms, that is nutrient concentrations and concentration ratios, and associated coefficients of variance for macadamia (also for coffee and guava). We have also developed a software program that is capable of warning growers of potential nutritional problems in these crops. This software, both DOS-based and Macintosh versions, is being incorporated by Dr. Bittenbender, a fruit tree specialist, into his Farmers®" Bookshelf system which gives expert advice on several crops, including macadamia, coffee, guava, etc. The software has also been used by Mr. Pete Bunn of the C Brewer Co. to evaluate nutrient status of macadamia orchards around the State in connection with his fertilizer recommendations and sales, by Mr. Peter Tausend to monitor coffee growth for the McBryde orchard (about 4,000 acres), and by Ms. Karen Borman to monitor guava growth for the Kilauea orchard (over 500 acres) on Kauai.