Cycad Scale, or Sago Palm Scale
Click on images to enlarge.
Cycad scale
Photo: Brian Bushe, CTAHR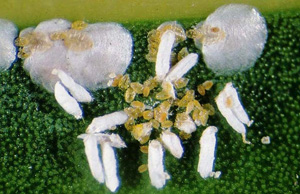 Cycad scale crawlers
Photo: Brian Bushe, CTAHR
Problem
The Cycad scale feeds on the undersides of the leaves of the Sago Palm, sucking the sap from the plants. The leaves of the Sago Palm turn yellow, then brown, and die. In severely infested plants, new growth may be affected. Cycad scale attacks the leaves, leaf petioles, trunk, and roots of the plant. It is difficult to control because it is hard to eliminate all of the scale insects with pesticide, and natural predators are not always effective.
Description
Adult, female Cycad scales have a hard, waxy, white, oval shaped covering. The actual insect is inside this armor and is orange in color. Males have wings and are long, with a white covering. Females are tiny, 1/18 of an inch. The males are even smaller.
Information
Kendal Lyon, Hawaii Island Master Gardeners