Black Black Twig Borer
Black twig borer, anthurium damage
Photo: Dr. Arnold H. Hara, CTAHR

Wilting foliage on podacarpus caused by Black twig borer
Photo: Dr. Scot C. Nelson, CTAHR

Problem
The tips of the branches of the tree die back; you may notice pin-sized holes on the branches near the affected area. If there are no other symptoms, it may be Black Twig Borer.
Description
Black twig borer affects 200 plant species including many trees, ornamentals, anthuriums and orchids. The female tunnels into the woody twig, leaving pin sized holes. The burrowing, along with introduction of pathogens, causes die-back of the branch or stem of the tree or shrub. Black twig borer is often a pest of podacarpus.
Holes in stem of podacarpus
Photo: Dr. Scot C. Nelson, CTAHR

Black twig borer, anthurium
Photo: Dr. Arnold H. Hara, CTAHR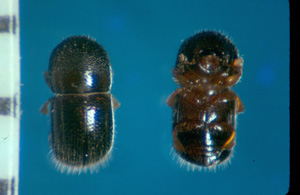 Black twig borer, female
Photo: Dr. Arnold H. Hara, CTAHR

Information
Control
Prune off the infested plant material. Remove from your yard. Support the vigor of the plant with proper fertilization and water. Parasitic wasps may help control this pest. You don't need to go out and buy these; they are already in the environment. Do not use broad spectrum pesticide as you may kill the parasitic wasps.
Chemical control
Ask an extension agent about pesticide use.
Kendal Lyon, Hawaii Island Master Gardeners