Insect Ecology and Integrated Pest Management Lab, University of Hawaii at Manoa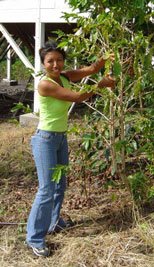 Elsie G. Burbano, M.S. Iowa State University, Ph.D., University of Hawaii - Researcher.
Ph.D. project: Black twig borer (Xylosandrus compactus, Scolytidae) ecology and management on Kona coffee and in other Hawaii coffee areas.
Current project: Coffee berry borer (Hypothenemus hampei) management in Hawaii.
Publications:

Burbano, E.G., Wright, M.G., Gillette, N.E., Mori, S. Dudley, N., Jones, T. & Kaufmann, M. 2012. Efficacy of traps, lures and repellents for Xylosandrus compactus (Coleoptera: Curculionidae) and other ambrosia beetles on Coffea arabica plantations and Acacia koa nurseries in Hawaii. Environmental Entomology 41: 133-140.
Burbano E., Wright M.G., Bright D.E., Vega F.E. 2011. New record for the coffee berry borer, Hypothenemus hampei, in Hawaii. Journal of Insect Science 11:117 available online: insectscience.org/11.117.
| Back to lab members | Home |