Insect Ecology and Integrated Pest Management Lab, University of Hawaii at Manoa
Mark G. Wright Ph.D., University of Natal, Pietermaritzburg
Professor / Extension Spec.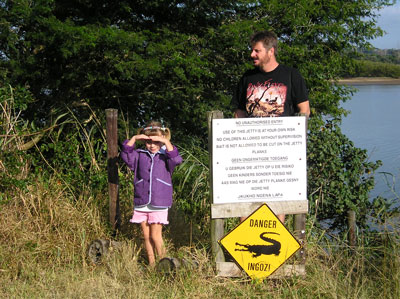 Caitlin and Mark, Lake St. Lucia, South Africa
| IPM and Insect Ecology | Home | Lab members | Teaching | Images | Lab Publications | Extension | Q&A | SA people |
Current projects include:
Varroa mite management (with Ethel Villalobos & co.)
Origin and biological control of Erythrina gall wasp (Quadrastichus erythrinae) (with Russ Messing, Dan Rubinoff & HDoA);
Development of probabilistic risk assessment procedures for biological control introductions (with Leyla Kaufman);
Ecology and control of coffee berry borer in coffee (with Elsie Greco);
Ecology and biocontrol of papaya mealybug in papaya (with Leyla Kaufman);
Management of banana bunchy top virus (with Rodrigo Almeida, Cerutti Hooks);
Behavioral and genetic changes in a biological control agent introduced to a new environment (with Russ Messing, Ania Wieczorek, Adam Vorsino);
Development of economic injury levels for tropic fruit and nut crops;


The Wright Centre for Psuedoscience
Lab Publications: Click here. All M.G. Wright publications: Click here.
Full CV here, for really bored visitors.........
Courses I teach, click here.
Email: markwrig@hawaii.edu
MW in Arizona, academic mode........ And in the lab......
| IPM and Insect Ecology | Home | Back to lab members | Images | Q&A | Extension | Teaching | Weird stuff |