History of the Hawai'i Agricultural Experiment Station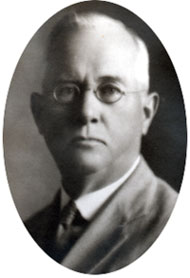 The College of Tropical Agriculture and Human Resources is well embarked on the second century of its research program, which began in 1901 with the founding of the Hawaii Agricultural Experiment Station. This ancestry precedes even the founding of the University of Hawai'i itself, which began when the College of Agriculture and Mechanical Arts—the beginning of our instructional program—opened its doors in 1907. CTAHR proudly continues the traditions of both of these historic institutions, which have so successfully supported Hawai'i's agricultural economy.


The first buildings of the Hawai'i Agricultural Experiment Station were erected in 1901 on a tract known as Kewalo-uka in Makiki Valley on the outskirts of Honolulu. The structures included an office, residences for the superintendent and workers, a two-story stable, and a poultry house.
The Hawaii Agricultural Experiment Station (HAES) had its origin in the Hatch Act, passed by the U.S. Congress in 1887. The act mandated creation of agricultural experiment stations in all the states and territories that had land-grant colleges. The purpose of the experiment stations was to "aid in acquiring and diffusing among the people of the United States useful and practical information on subjects connected with agriculture, and to promote scientific investigation and experiment respecting the principles and applications of agricultural science."


By 1912, additional buildings had been added to support HAES research activities, including the glasshouse at left.
Hawai'i did not yet have a land-grant college in 1901, but its citizens had a need for agricultural research on diversified crops. To the Polynesian staple crops brought by the Hawaiian colonizers and developed to support their civilization had more recently been supplemented by a cornucopia of new crops brought by haole immigrants from around the world, including rice, potatoes, and especially "king" sugarcane. As an antidote to undesirable overspecialization in sugar, HAES was "devoted principally to the development of new crops for Hawai'i," as noted in Crawford's Hawai'i's Crop Parade (1937). Supported with federal funds, HAES conducted its research as an independent entity until 1929, when it was combined with the smaller, locally supported research program in the UH agricultural college.



Harrowing in Pauoa, a worker prepares a research plot for plantings of taro and rice.
Starting in its first location at Makiki in the rural outskirts of Honolulu, HAES began to explore the possibilities for developing agricultural export commodities to strengthen the islands' economy. Throughout its first century and continuing through the present day, its scientists have worked to develop new crops for Hawai'i, improve agricultural practices, and ensure the success of our farmers. During both world wars, the experiment station system became a focal point for marshaling resources to undergird the Islands' food supply during troubled and uncertain times. In recent years, it has responded to increasing concerns about environmental sensitivity with research on protecting our natural resources and ensuring a safe food supply.


As the times have changed, CTAHR's research program has changed with them, and more changes are in sight. A recent USDA report stated, "Our producers now operate in a global, technologically advanced, rapidly diversifying, highly competitive business environment that is relentlessly driven by increasingly sophisticated consumers." As they continue their second century of scientific exploration and innovation in agriculture, CTAHR researchers are committed to helping Hawai'i's citizens succeed and improve their quality of life in this challenging new world.