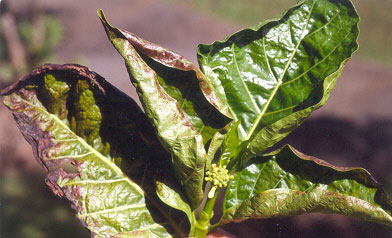 Feeding damage by eriophyid mites on noni foliage results in curled, wrinkled leaves with scorched margins.
---
Pest: The pest is an unidentified species of eriophyid mite. The host range for this mite is unknown.

Damage: The feeding by eriophyid mites on noni causes the leaves to curl and wrinkle, leading to a bronze scorching and necrosis of leaf margins. Entire leaves may be discolored and defoliate prematurely.

Distribution: Damage from eriophyid mites was first observed in the Puna district of the island of Hawaii in 1999. The distribution of the damage and the distribution of the mite are unknown at present.

Host range: Unknown.

Control:
Foliar applications of sulfur dusts or sprays.

Manual detachment and removal of heavily infested leaves.

Canopy management (thinning).

Weed control (removes potential alternate hosts for the mites).

Avoidance (avoid introducing infested plants into your nursery).
Notes: Previously unreported in Hawaii and the international literature.