CTAHR Cooperative Extension Service
Hawai'i Soils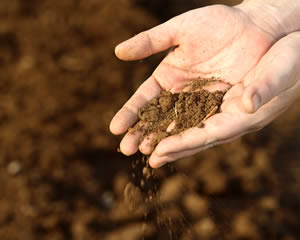 "
To be a successful farmer one must first know the nature of the soil.
"
— Xenophon, Oeconomicus, 400 B.C.
The importance of soils to crops was recognized long ago and knowing one's soil continues to be an essential part of being a successful farmer today. It is quite remarkable that the Hawaiian Islands, a small group of islands over 2500 miles from the nearest continent and geologically very young, has soils belonging to all of the 11 soil orders known. Because rainfall has such an impact on soil development, and Hawai'i's rainfall can be so variable from one part of an island to another, the soils can be variable within a very short distance. Knowing, and understanding the soil type and characteristics of the soil is essential to managing the fertility of the soil and minimizing nutrient waste.
Agricultural Diagnostic Service Center
Soil Rx for Soils and Crops
Deenik Soils Information
Hawai'i Soil Surveys
Soil and Crop Management
Free downloadable fact sheets in pdf format.
Soil Management Collaborative Research Support Program (SM CRSP)
Improve agroecosystem performance through rectification of soil nitrogen, soil phosphorus, soil acidity, soil water and soil degradation constraints using an integrated nutrient management approach. This USAID project began in 1997.
Soil Management for Maui County