Dr. Ania Wieczorek's Research Projects
Hawaii has one of the world's most fragile environments. As the world's most isolated island group, we also have the greatest number of endangered plant species. Our lab focuses on applying molecular techniques to the study of invasive species and the conservation of native plants. Research on invasive species uses DNA techniques to study how these plants spread and for their identification. Conservation research has focused on plant populations and is currently looking at gene flow from non-native related plant varieties.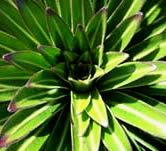 Dr. Ania Wieczorek's work has two areas of focus, the Molecular Ecology Lab concentrates on conservation and the management of invasive species through the application of DNA technology and the Biotechnology Outreach Program, which provides public education about agricultural biotechnology to a wide range of audiences and includes the Gene-ius Day Program.
Past Research Projects
Research on Invasive Species:
Ecological and genetic changes in a biological control agent following introduction into new environment
Development of Unique Molecular Markers for Rapid Identification of Potentially Invasive Weeds in Hawai'i
Biological invasion of Pentalonia nigronervosa in Hawai'i an banana plantings
Population genetics and development of sustainable management tactics of Papaya ring spot virus
Dispersal and population genetics of invasive weeds: management implications
Research on Conservation of Hawaiian Species:
Assessment of the potential for gene flow from agricultural crops to native plant relatives in the Hawaiian Islands
Conservation of the native species Lobelia villosa
Evolution and conservation of the native Hawai'i an species of Plantago