Welcome to Dr. Ania Wieczorek's Molecular Ecology Lab
Hawaii has one of the world's most fragile environments. As the world's most isolated island group, we also have the greatest number of endangered plant species. Our lab focuses on applying molecular techniques to the study of invasive species and the conservation of native plants. Research on invasive species uses DNA techniques to study how these plants spread and for their identification. Conservation research has focused on plant populations and is currently looking at gene flow from non-native related plant varieties.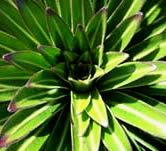 Dr. Ania Wieczorek's work has two areas of focus, the Molecular Ecology Lab concentrates on conservation and the management of invasive species through the application of DNA technology and the Biotechnology Outreach Program, which provides public education about agricultural biotechnology to a wide range of audiences and includes the Gene-ius Day Program.
Lab News!!!
Congratulations to Martha Gauthier!
On November 26, 2014, Martha defended her PhD Thesis titled - The impacts of evolutionary and human mediated dispersal mechanisms on invasion success in Solanaceae. Martha is currently working at MacMurray College as a Visiting Assistant Professor in Biology.
Congratulations to Kelcie Rico!
On December 12, 2013, Kelcie defended her Master Thesis titled - Maize Choleric Mottle Virus: assessing alternate hosts. Kelcie is currently working at Pionner HI-Bred as a planting and quality supervisor. Awesome Job Kelcie!
Congratulations to Alex Lehman!
On November 26, 2012, Alex successfully defended his Master Thesis titled - Assessing the impacts of gene flow between endemic Hawaiian cotton, Gossypium tomentosum and two commercial cotton species. Great Job Alex!
Congratulations to Dr. Adam Vorsino!
January 2012 - Dr. Adam Vorsino, a former graduate student of Dr. Ania Wieczorek has started his career as an Ecologist with Pacific Islands Fish & Wildlife Office in Honolulu! Dr. Vorsino will be working towards research projects that use the best available science and sound managerial techniques to conserve, protect, and enhance wildlife and their habitats. Congratulations Dr. Vorsino!